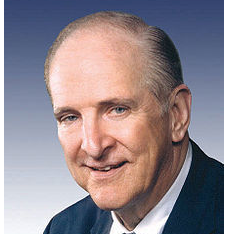 Congressman Sam Johnson
Sam Johnson, a decorated war hero and native Texan, ranks among the few Members of Congress to fight in combat. During his 29-year career in the U.S. Air Force, Representative Johnson flew combat missions in both the Korean and Vietnam Wars. He endured nearly seven years as a Prisoner of War in Hanoi, including 42 months in solitary confinement. Following his distinguished military career, Sam established a home-building business in North Dallas from scratch and served in the Texas State legislature.
Sam holds a House leadership role as one of the few Deputy Whips (vote counters). He is a member of the House Committee on Ways and Means where he serves as the Chairman of the Social Security Subcommittee and sits on the Health Subcommittee. In the 112th Congress, House leaders appointed Sam to the Joint Committee on Taxation (JCT).
Sam uses his committee assignments to benefit the Third District. Sam's tenure and long-standing relationships give his constituents direct access to top congressional leaders and ensure their voices are heard in Washington.