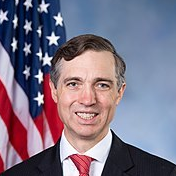 Congressman Van Taylor
A seventh generation Texan, Van Taylor is a family man, businessman, and decorated Iraq War Veteran. Growing up, Van earned his Eagle Scout from the future President George Bush.
After high school, Van attended Harvard College from which he obtained a Bachelor of Arts in history. After graduating college, Van volunteered to serve his county and received a commission in the United States Marine Corps.
He attended The Basic School, Infantry Officer Course, and graduated first in his class from Sniper Employment Officer Course. He completed Intelligence School as the Marine Honor Graduate and commanded First Marine Regiment's Reconnaissance Platoon in Camp Pendleton, CA. After completing that assignment, he served as an intelligence officer for an artillery battalion. Van earned the Navy Achievement Medal for devising a quantitative combat power analysis system.
Van Taylor joined the Marine Corps Reserves to continue serving his country while earning his MBA at Harvard Business School. He served in Fourth Civil Affairs Group, graduating from the John F. Kennedy School of Special Warfare at Ft. Bragg, NC. He joined 4th Reconnaissance Battalion as a platoon commander for Charlie Company.
Congressman Taylor is proud to serve on two influential House Committees in the 116th Congress: the Committee on Homeland Security, specifically, the Subcommittee on Cybersecurity, Infrastructure Protection and Innovation (CIPI) and the Subcommittee on Oversight, Management and Accountability (OMA) and the House Committee on Education, where he serves on the Subcommittee on Early Childhood, Elementary and Secondary Education and the Subcommittee on Health, Employment, Labor, and Pensions.